New York City's Times Square – a major commercial intersection and in Midtown Manhattan stretching from West 42nd to West 47th Streets, and the hub of the Broadway Theater District – had its humble beginnings as Long Acre Square prior to 1904, when the New York Times moved into a new skyscraper on 42nd Street (presently the Allied Chemical Building). The publisher convinced the city to build a subway station there, and the square was renamed after the newspaper.  Among its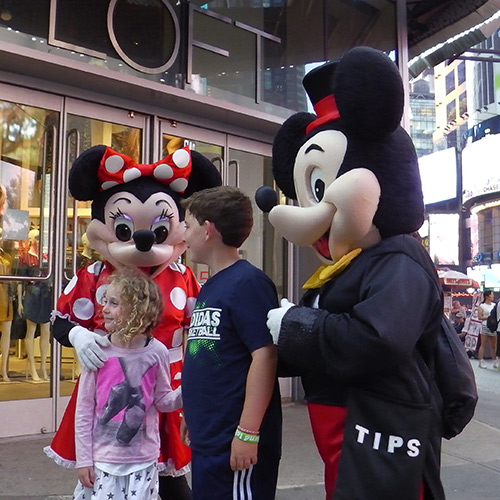 original landmarks, the Hotel Astor was the first of the hotels to arrive to Times Square, conceived of by William Waldorf as the next iteration of the Waldorf-Astoria Hotel.  Other landmarks were The New York Theatre Company building on Broadway between 44th and 45th Street and the Lyric Theatre, decorated in a Louis XVI style including a roof garden, billiard room, concert hall and a music hall.
Starting with the Great Depression but mostly from the Sixties into the early Nineties, the Square became a symbol of the city's decline, with a proliferation of pornographic theatres and other adult-oriented businesses, drug dealers and the like. In the 1960's Times Square – as depicted in the movie "Midnight Cowboy", became gritty, dark and desperate; the New York Times described 42nd Street as "the worst block in town."  The Victory Theater was the first porn theater on 42nd Street, and the crime and seediness would only escalate, hustlers were common, misdemeanors were allowed to go unpunished by a demoralized Police force.
Finally, in the 1980s, a commercial building boom began in the western parts of Midtown as part of a long-term development plan developed under Mayors Ed Koch and David Dinkins. In the mid-1990s, Rudolph Giuliani led an effort to clean up the area, and security was increased, pornographic theatres were closed, and "undesirable" low-rent residents were pressured to relocate, attracting more family friendly businesses as well as the opening of more tourist-friendly attractions and upscale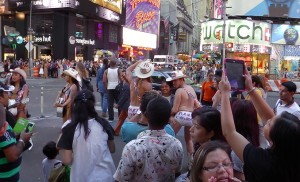 establishments.  Although detractors have advance the notion that the changes homogenized or "Disneyfied" the authenticity of Times Square,  today is the most visited place globally with 360,000 pedestrian visitors a day, amounting to over 131 million a year, the world's second most visited tourist attraction, behind the Las Vegas Strip.
Brightly adorned with billboards and advertisements (the only neighborhood in New York with zoning ordinances requiring building owners to display illuminated signs), Times Square is sometimes referred to as "The Crossroads of the World", "The Center of the Universe", and "The heart of The Great White Way", and the the site of the annual New Year's Eve ball drop, when about one million revelers merge in this landmark for the New Year's Eve celebrations.




by